The Little Mermaid


Storybook

Created by Kaitlyn's Grandma
For Kaitlyn!
Important Legal Notice

"The Little Mermaid" and all characters and distinctive likenesses thereof, including the images on this web site, are copyright The Walt Disney Company. This page is neither sponsored nor endorsed by The Walt Disney Company, nor do any views or opinions expressed on this web site represent the views or opinions of The Walt Disney Company. The author of this website is not an employee of The Walt Disney Company.
After you read the book
there is more to see if you
click on the "back to contents"
button!
Visit other Little Mermaid and Disney sites
by traveling the "RINGS" shown below: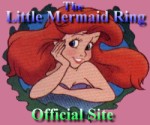 This Little Mermaid Ring site's webmaster is Kaitlyn's Grandma.

[ Next Site - Next 5 - Previous - Random ]

Want to join the ring? Get the info.


[Previous] [Random Site] [Next] [List Sites] [Join]